Sold out
---
The Ukrainian word 'dumky' means 'thoughts' and is the plural of dumka, the diminutive of duma, a melancholy Slavic (originally Ukrainian) folk ballad. Like some other Eastern European composers, Dvořák made the dumka a form in which slow, melancholy 'narrations' alternate with fast dances. He wrote a number of Dumkas, including a trio, in which he perfectly merged classical music with folklore. The Georgian composer Sulkhan Tsintsadze in his own way fused folklore into the miniatures of the string quartet, transposing famous Georgian ballads and songs for the string instruments.
Antonín Dvořák (1841 – 1904) Piano Trio No. 4 in E minor. op.90 B.166 'Dumky' (1891)
Nino Gvetadze, piano,
Candida Thompson, violin
Harriet Krijgh, cello
Vanessa Lann (1968) Two Ukrainian Folk Sketches (1989)
Levan Tskhadadze, clarinet
Severin von Eckardstein, piano
Sulkhan Tsintsadze (1925 – 1991) Selection from Miniatures for string quartet (1961)
Natalia Gabunia, violin
Tosca Opdam, violin
Gareth Lubbe, viola
Ketevan Roinishvili, cello
Ticket price: €39,50 (concert and lunch)
This concert can also be booked without lunch at € 22,50. Click here.
---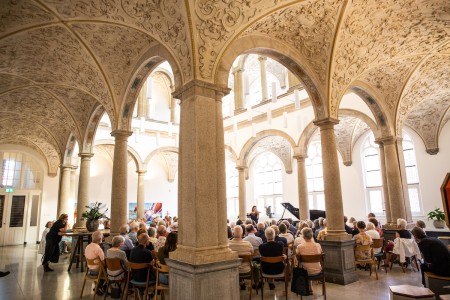 ---