Willem, de opera – met en door kinderen
zaterdag 3 augustus 2019
11:00-12:00
The Cigar Factory
---
Together with children from 6 - 12 years old from Delft and the surrounding area, actor Ton Meijer creates the show Willem, the opera with music by, among others, Mozart, Bizet, Verdi and Wagner.
Together with enthusiastic and especially curious children, Ton sets out to find out who Willem van Oranje actually was by playing and singing. How do you become a true hero? What does freedom mean and ... what is opera anyway?
Together with soprano Marijje van Stralen and the piano trio Christina Edelen (piano), Joanna Trzcionkowska (violin) and Evelien Prakke (cello) Ton Meijer and all children bring their Willem, the opera, to the Cigar Factory.
Parents, grandparents, brothers, sisters, neighbor boys and girls are of course very welcome to come and admire the performance of this opera.
Ton Meijer, actor
Marijje van Stralen, soprano
Christina Edelen, piano
Joanna Trzcionkowska, violon
Evelien Prakke, cello

Tickets € 7,50
---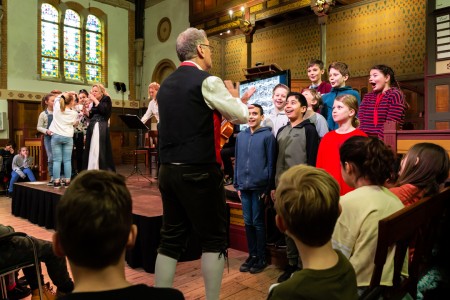 ---