Stoelendansconcerten Midden-Delfland
maandag 31 juli 2023
13:00-16:00
Midden-Delfland
Tickets
---
The annual trip to Midden-Delfland is not missing in this year's program. You can once again enjoy beautiful music at three idyllic locations. In the quiet landscape between Delft, Rotterdam and The Hague, you can attend short concerts at three beautiful locations that are within cycling distance of each other: the church of 't Woudt, the Dorpskerk van Schipluiden and the Domkerk in De Lier. Directions to the next location are available at each location. The concert programs are distributed at the locations.

Concert - Dorpskerk in Schipluiden
Natalia Gabunia (violin), Ketevan Roinishvili (cello)

Concert - Domkerk in De Lier
Janne Thomsen (flute), Gareth Lubbe (viola, overtone singing)

Concert - Kerkje 't Woudt - 't Woudt
Heiko Dijker (tabla), Sharat Srivastava (violin)

We invite you to come by bike, but you can also buy a ticket for the special shuttle bus. The bus takes you from Delft Station or from Op Hodenpijl to all locations and back. The bus is SOLD OUT.
PLEASE NOTE: the shuttle bus goes directly to Op Hodenpijl and/or the station after the 3rd concert. You may then miss today's closing concert at Op Hodenpijl.
Take a good look at your entrance ticket to see what your starting location is.

Download the CYCLE ROUTE (in Dutch) and CYCLE MAP here, print them out and take them with you!

Tickets € 36 (three concerts)
Tickets € 12,50 (bus transport - you can board at 12:10 hrs at Delft CS or at 12:30 hrs at Op Hodenpijl => SOLD OUT)

After the cycle route you can also visit today's closing concert at Op Hodenpijl.
Book this concert directly, then you will receive a discount.
Tickets € 17,50 (just the Closing Concert Op Hodenpijl)
Tickets € 47 (complete day: three Stoelendans concerts including Closing Concert Op Hodenpijl)
Would you like to have dinner after the Closing Concert? Reserve your 4-course dinner separately in the ordering process. Dinner costs € 43. Please note: full = full.
---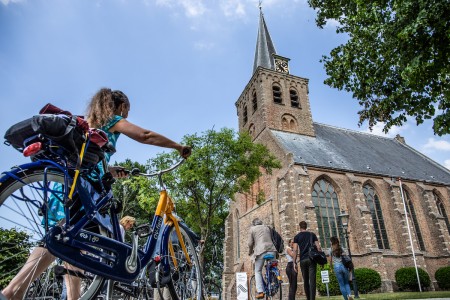 ---