Slotconcert Stoelendansconcerten Op Hodenpijl
maandag 31 juli 2023
17:00-18:00
Op Hodenpijl
Sold out
---
At Op Hodenpijl we close the Stoelendansconcerten in Midden-Delfland. From 16:00 you can enjoy a drink here.
Robert Schumann (1810 – 1856) Stille Tränen op.35, nr.10 from 'Zwölf Gedichte' (1840)
Robert Schumann (1810 – 1856) Du bist wie eine Blume op.25, nr. 24 from 'Myrthen' (1840)
Francis Poulenc (1899 – 1963) Les Chemins de l'amour (1940)
Franz Schubert (1797 – 1828) Nacht und Träume D.827 (1825)
Harriet Krijgh, cello
Nino Gvetadze, piano

Jörg Widmann (1973) Paraphrase on Mendelssohn's wedding march (2016)
Frederieke Saeijs, violin

Zacharia Paliashvili (1871 – 1933) Paraphrase from Daisi (1923) arr. Sandro Nebieridze
Nikolai Kapustin (1937 – 2020) Variations Op. 41 (1984)
Sandro Nebieridze, piano

Robert Schumann (1810 – 1856) Sonate voor viool en piano nr 1, op.105 in a kl.t. (1851)
Frederieke Saeijs, violin
Nino Gvetadze, piano
You can also book this concert with reduction in combination with the complete Stoelendansconcerten.

PLEASE NOTE: If you use the shuttle bus and want to return to Delft station, you cannot attend this Slotconcert. The bus returns everyone to the station or Op Hodenpijl after the third Stoelendansconcert. If you get on the bus at Op Hodenpijl and have your own transport there, it is possible.

Tickets € 17,50 (just the Slotconcert Op Hodenpijl)
Tickets € 47 (the complete route: three Stoelendansconcerts including Slotconcert Op Hodenpijl)

Would you like to have dinner after the Slotconcert? Reserve your 4-course dinner separately in the ordering process. Dinner costs € 43 (excluding drinks). Note: full = full.
---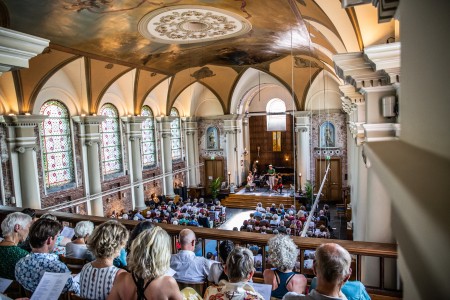 ---