Slotconcert - Ade! Du muntre, du fröhliche Stadt...
zondag 4 augustus 2019
20:15-22:15
Van der Mandelezaal
---
We say goodbye to the festival. Farewell to the theme 'Orpheus'. And in line with tradition the final notes are from Schubert's String Octet. Guest programmer Thomas Oliemans taps the festival theme one more time with Die Götter Griechenlands. And the theme of Die Gotter Griechenlands is also reflected in the String Octet.
Franz Schubert (1797 – 1828) - From Schwanengesang D957 (1828)
- Abschied
- Die Taubenpost

Franz Schubert (1797 – 1828) - Die Götter Griechenlands D677 (1819)

Thomas Oliemans, baritone
Dan Boertien, piano

Henri Dutilleux (1916 - 2013) - Ainsi la nuit (1976)
Ensembe Le Quatuor Elmire

Intermission

Franz Schubert (1797 – 1828) - Octet in F op.166 D803 (1824)
Adagio – Allegro – Più allegro
Adagio
Allegro vivace – Trio – Allegro vivace
Andante – variations. Un poco più mosso – Più lento
Menuetto. Allegretto – Trio – Menuetto – Coda
Andante molto – Allegro – Andante molto – Allegro molto

Cecilia Bernardini, violin
Eva Saladin, violin
Emlyn Stam, viola
Marcus van den Munckhof, cello
Ying Lai Green, double bass
Nicola Boud, clarinet
Evolène Kiener, bassoon
Teunis van der Zwart, horn

Tickets à € 43,50

Prior to this concert you can have dinner.
---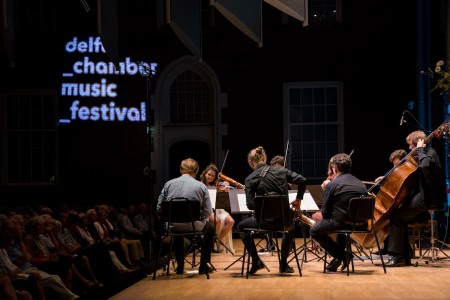 ---