Sold out
---
Shostakovich's 15th Symphony was also his last. In this concert, it is voiced in a spectacular arrangement for six performers. The work seems to have as a central question: what does it all mean? Life, seeking expression in music, memories and the inevitable end. In the eyes of artistic director Liza Ferschtman it is possibly the most profound work of this composer. A work with great emotional contrasts. To some, the breathtaking slot is like a magical nighttime performance in a toy store and to others the alienating and frightening sound of equipment in a hospital.
In this concert we also hear a selection of songs by Bridge. These songs poetically add color to parting, from each other and from life.
Frank Bridge (1879-1941) - Where she lies asleep H.113 (1916)
Frank Bridge (1879-1941) - All things that we clasp H.77 (1907)
Frank Bridge (1879-1941) - Journey's End H.167 (1925)
Frank Bridge (1879-1941) - The last Invocation H.136 (1918-1919)

Robin Tritschler, tenor
Enrico Pace, piano

Dmitri Sjostakovitsj - Symfonie no.15 in A gr.t. op.141 (1971) (arr. Victor Derevianko)

Liza Ferschtman, violin
Jakob Koranyi, cello
Juho Phjonen, piano and celesta
Mark Braafhart, percussion
Bence Major, percussion
Marc Aixa Siurana, percussion

The Steinway & Sons grand piano is provided by Pianos Maene Nederland.
---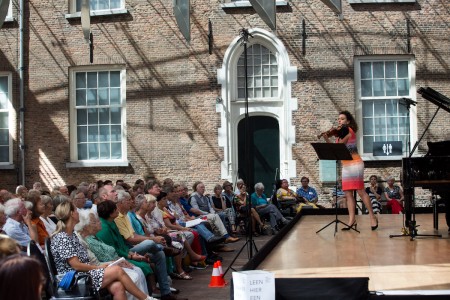 ---