Tickets
---
Classical music repertoire is rich with countless masterworks; we play those works around the world. But we also often perform the works that weren't favored by their creators. Often composers would destroy the score of the piece which didn't satisfy their ideas, but sometimes they would hide those pieces away, perhaps for later days. Stories of those works are curious, as they weren't meant for our ears, yet today these works take an important part of chamber music repertoire. If it weren't for Alma Mahler's rediscovery we wouldn't have her husband's Piano Quartet, which was stashed away in the piles of paper.

In spite of the great success of Ravel's Bolero, Ravel was still convinced, that most orchestras would refuse to play it and considered it as the least interesting among his creations. Hard to imagine, that such masterwork as the Bartók's Piano Quintet was hidden away and vanished for almost half a century, the reason had to do with a dismissal by the composer himself, as he wasn't convinced that he found his style as a composer in this early work yet. Still after many years of silence he performed it and the piece remained dear to his heart. Sometimes even the greatest of the talents are mistaken and only time reveals the beauty of the real masterwork.

Gustav Mahler (1860 – 1911) – Pianokwartet in a kl.t. (1876)
Nicht zu schnell

Nino Gvetadze, piano
Frederieke Saeijs, violin
Meghan Cassidy, viola
Nicholas Santangelo Schwartz, cello

Maurice Ravel (1875 – 1937) – Bolero voor vier handen (1928)

Nino Gvetadze, piano
Tamara Licheli, piano
Tatiana Koleva, percussion

Béla Bartók (1881 – 1945) – Pianokwintet in C gr.t. Sz.23 BB.33 DD.77 (1903/04)
Andante
Vivace. Scherzando
Adagio
Poco a poco più vivace

Tamara Licheli, piano
Daniel Rowland, violin
Alissa Margulis, violin
Dana Zemtsov, viola
Julian Arp, cello

Tickets € 35 incl. a drink before the concert

This concert will be recorded by the NTR for NPO Radio 4 and broadcast at a later date.
---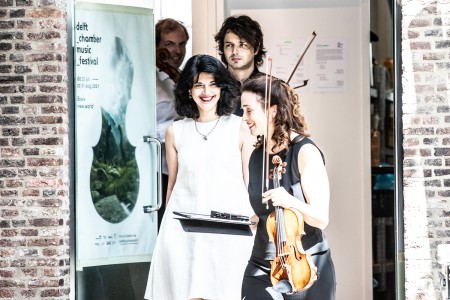 ---