Market concert
vrijdag 28 juli 2023
21:00-22:00
Markt
Free entrance
---
The annual Marktconcert (Market concert) guarantees a summer evening with festive music. In this way, the Delft Chamber Music Festival wants to give something back to the city of Delft and its inhabitants. As always, we start with a preview of the 26th edition of the Delft Chamber Music Festival by various festival musicians. Then the Carel Kraayenhof Quartet takes over the stage for a spirited concert.
We travel with them to South America. Carel has a lot to celebrate this year and that's why he's going all out. Exactly forty years ago he came into contact with the instrument that changed his life: the bandoneon. Together with his 'compañeros' from the Carel Kraayenhof Quartet, he presents the new program Carel celebrates the Tango. It features the music of four great tango composers: Pugliese, Piazzolla, Salgan and Troilo. These four special Argentinians lived on the heartbeat of the tango. You will get an exclusive preview of this program at the Markt in Delft.
Carel Kraayenhof Quartet consists of Carel Kraayenhof (bandoneon), Juan Pablo Dobal (piano), Bert Vos (violin) and Jaap Branderhorst (double bass).
---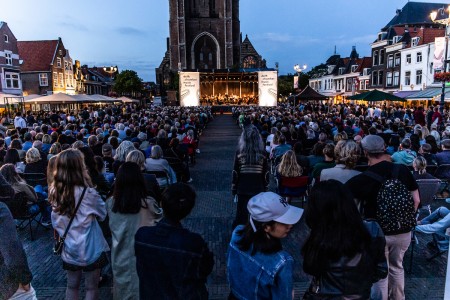 ---