Sold out
---
A 'smiling' symphony in difficult times - music, that reflected joy, humour, happiness and excitement even though Beethoven wrote his Second Symphony in the times when he was getting conscious about the seriousness of his hearing problem and finished it just a year before writing the famous Heiligenstadt Testament. He created the Symphony, that gives us wings and so much positive energy, that nothing seems impossible. Cherishing the beauty of the mother nature and celebrating life, like no one else, Beethoven gave us hope and showed an example how to be strong, hopeful, follow our dreams towards the new beginnings.
With its ethnic-inspired themes Dvorák's piano quintet has become one of best-loved chamber music works of Romantic music literature. It's hard not to fall in love with these beautiful motives! Pure pleasure, with the hint of sadness, Dvorak's music embraces and comforts, gives us hope for the better, brighter future.
Being an optimist, Nino Gvetadze believes there is always light, hope and sunshine ahead of us, so let's be "brave enough to see it" and be" brave enough to be it!"
Ludwig van Beethoven (1770 - 1827) Symphony nr. 2 in D major op.36 transcription for pianotrio (1802/1803)

Storioni Trio

Antonín Dvořák (1841 - 1904) Piano quintet nr. 2 in A major op.81, B155 (1872)

Nino Gvetadze, piano
Barnabás Kelemen, violin
Katalin Kokas, violin
Mikhail Zemtsov, viola
Harriet Krijgh, cello

The Steinway & Sons grand piano is provided by Pianos Maene Nederland.
---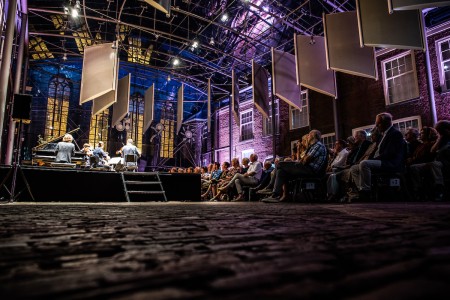 ---