Sold out
---
Ghosts, illusions, mirages, they haunt us from the past and even from the future.
Second movement of Beethoven's D Major Trio reminded Carl Czerny of the ghost of Hamlet's father, but the connection might not have been with Hamlet but with Macbeth, as Beethoven was sketching ideas for an opera based on a Macbeth libretto and entries for the abandoned project are found interspersed with ideas for the slow movement of the trio. In any case the Ghost of Shakespeare was somehow present and the name suggested by Czerny "Ghost" remained. The picture shows Beethovens notes.
Marked as "Hommage à Brahms" Ligeti 's Horn Trio was created as a companion to famous Brahms Horn Trio. "Somewhere inside my head I heard the sound of a horn as if coming from a distant forest in a fairy tale, just as in a poem by Eichendorff."
Es zog eine Hochzeit den Berg entlang, Ich hörte die Vögel schlagen,
Da blitzten viel Reiter, das Waldhorn klang, Das war ein lustiges Jagen!
Und eh' ich's gedacht, war alles verhallt,
Die Nacht bedecket die Runde;
Nur von den Bergen noch rauschet der Wald Und mich schauert's im Herzensgrunde.


Long time before that Robert Schumann would write a song about this illusion, but there is more by Joseph von Eichendorff, that inspired Schumann to dive into the unknown: Prophet Bird, "lively and spirited" and yet mysterious and supernatural, appearing out of nowhere, leaving us with unanswered questions, spellbound, hypnotised, wondering about the future.

And the future brought us pandemic, reality, that seems like an illusion, that must vanish, disappear. No artist could avoid this subject. Georgian composer, Eka Chabashvili composed a piece, where structure of the movement is based on a Facebook post by the famous Georgian writer Guram Megrelishvili, who described in detail all stages he went through being infected with Covid-19. Thus, the movement represents the anamnesis of Covid-19. The modified piano part is performed in Tbilisi by Tamar Zhvania and transmitted live via Skype.
Robert Schumann 1848–1849 Prophet Bird in G minor from 'Waldszenen' op.82 (1850)

Nino Gvetadze, piano

Eka Chabashvili (1971) Anamnesis of Covid 19 (after the short story by Guram Megrelishvili)

Nino Jvania, piano
Tamar Zhvania, piano from Tbilisi, Georgië

György Ligeti (1923 – 2006) Trio for violin, horn and piano (1982)

Frederieke Saeijs, violin
Hervé Joulain, horn
Nino Jvania, piano

Ludwig van Beethoven (1770 - 1827) Piano Trio nr.1 in D Major op.70 "Ghost" (1809)

Storioni Trio

The Steinway & Sons grand piano is provided by Pianos Maene Nederland.

During this concert recordings will be made by NTR for Radio 4.
---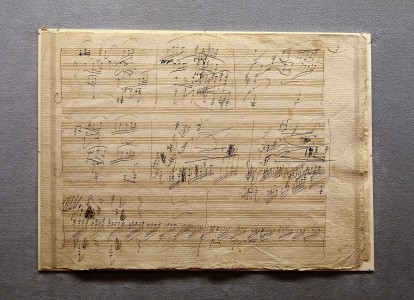 ---