Dutch Masters Meesters in music and paint
zaterdag 29 juli 2023
20:00-21:15
Van der Mandelezaal
Tickets
---
This evening is dedicated to Dutch Masters: composers and painters. In the first part of this evening, classical, 20th-century and contemporary Dutch Masters in music come to life in the Van der Mandelezaal.
This musical part lasts until 9:15 PM.
Subsequently, the public can travel through Museum Prinsenhof Delft to visit the Dutch Masters in paint. Experience how special it is to walk through a museum after closing time and get the space to admire the art! It promises to be a varied evening in which various paintings refer to the upcoming programming of the festival!
You may stay in the museum until 11:00 PM at the latest, but you can also leave earlier.
Willem Pijper (1894 – 1947) Sonata for violin and piano no. 1 (1919)
Frederieke Saeijs violin
Ed Spanjaard, piano

Willem Pijper (1894 – 1947) Sonatina nr. 3 (1925)
Ed Spanjaard, piano

Vanessa Lann (1968) And these hands - commission composition for 2 stringinstruments (2023) world premiere
Tosca Opdam, violin
Gareth Lubbe, viola, vocals

Leo Smit (1900- 1943) - Divertimento for 4 hands (1942)
Nino Gvetadze , piano
Sandro Nebieridze, piano

Louis Andriessen (1939 – 2021) Miserere string quartet (2006/07)
Candida Thompson, violin
Frederieke Saeijs, violin
Gareth Lubbe, viola
Ketevan Roinishvili, cello

In the second part of the evening, the Dutch Masters of paint and canvas will be in the centre of attention. How did the Dutch painters see their world? Are there similarities with the Dutch composers? Do you see the conection to our upcoming festival program?
Ticket price: € 45, including intermission drink.
---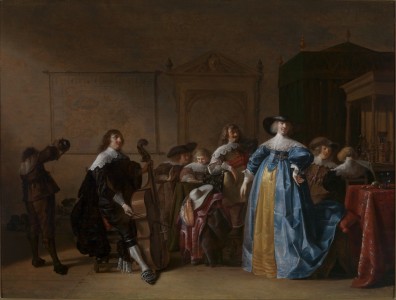 ---