Sold out
---
Sometimes people hold on to the old too much, do not dare to allow or accept the change. At the same time there may also be the need to only look ahead and forget or even destroy everything that passed by in the urge for a new reality.
Brahms was blamed in his day for not being an innovator, but he knew exactly what he was building on, and his timelessness is just one of the many characteristics that make him unique.
Vanessa Lann (1968) Moonshadow sunshadow (2014)

Esther Hoppe, violin
Liza Ferschtman, violin

Johannes Brahms (1833 – 1897) Piano quartet no.1 in G minor op.25 (1856-61)
- Allegro
- Intermezzo: Allegro ma non troppo — Trio: Animato
- Andante con moto
- Rondo alla Zingarese: Presto

Esther Hoppe, violin
Lars Anders Tomter, viola
Ivan Karizna, cello
Enrico Pace, piano

The Steinway & Sons grand piano is provided by Pianos Maene Nederland.
---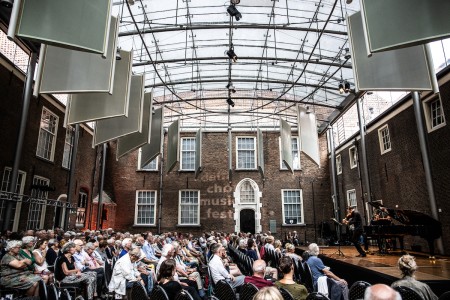 ---