Tickets
---
Centuries ago, the Silk Road from Asia to Europe was supposed to create a passageway for travelers. But along with the travelers came goods. The term therefor also serves as a metaphor for the exchange of goods and ideas between different cultures.
In this multimedia performance we will also travel a route from Asia to Europe through the works created or inspired by the locations on the Silk Road. The music is accompanied by the images and sounds from nature made by Lumiteus (Teus van der Stelt). Let yourself be surprised by this visual journey from the East to the West.

The program includes Pagodes, Jardins sous la pluie and Voiles by Claude Debussy, traditional Korean music, L'inverno - Largo by Antonio Vivaldi, Cleopatra op. 34 by Fazil Say, Miniatures by Kancheli, traditional Indian music, Ritual Fire Dance by Manuel de Falla and Dances from Sheherazade by Nikolai Rimsky-Korsakov (arr. Fritz Kreisler).
Nino Gvetadze, piano
Fredrieke Saeijs, violin
Bram van Sambeek, bassoon
Heiko Dijker, tabla

Anne Slothouwer, stage manager
Teus van der Stelt, light and animations
---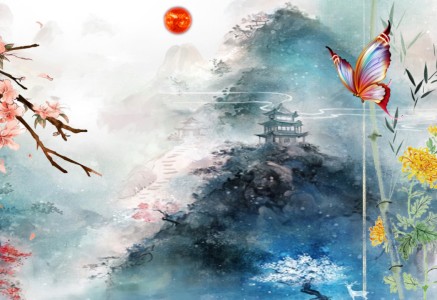 ---